Lemon Tree Thai Restaurant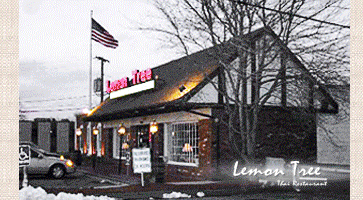 Lemon Tree Restaurant provides you with all kind of Thai food, Japanese sushi, sashimi, and noodles with or without soup. Whether you want a relaxed, casual meal or great food fast, delivery or catering for small or large groups, Lemon Tree has the Thai restaurant for you. Please contact us at 781-273-2323 for more details.
Little knowledge about Thai Food:
Thai food is known for its unique combinations of seasoning. Although it is hot and spicy, Thai cooking is carefully balanced to bring out all the different flavors in a dish.
Curries are a mainstay of Thai cooking. Hot chilies appear in many Thai dishes. Other common flavorings are fish sauce, dried shrimp paste, lemon grass, and the spices coriander, basil, garlic, ginger, cumin, cardamom, and cinnamon. Soup, eaten with most meals, helps balance the hot flavors of many Thai dishes as do steamed rice, mild noodle dishes, and sweet desserts. Coconuts play an important role in the Thai diet. Coconut milk and shredded coconut are used in many dishes, especially desserts. Many dishes are served with sauces.
中文>>
Open Hours
Lunch
11:30am - 3pm
-
Dinner
3-9pm
3-9:30pm
4-9:30pm
4-9pm
Reservations: Accepted (Lunch Menu,Dinner Menu)
Parking: Free parking
Attire: Casual
Features: Eat-in, Takeout, Catering, Delivery, Wheelchair Accessible, Kid Friendly, Vegetarian Corner, Desserts.

Address: 211 Middlesex Turnpikes,
Burlington, MA 01803
Phone: 781-273-2323
Website: http://www.lemontreethairestaurant.com/
Family gatherings, Birthday parties,
private room, etc. Up to 40 people.