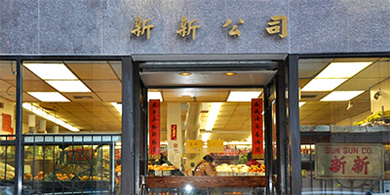 Sun Sun Market is located in the heart of the Boston Chinatown District. The market was established in 1941 by founder Wong Gow Sue. It has been a staple of Boston's Chinese Community for over 70 years.
Currently, in its fourth generation of family management, Sun Sun Co continues a long standing tradition of providing a selection of the finest products. We pride ourselves on a clean, organized, and well stocked establishment.
We offer a wide array of high quality imported products from Taiwan, China, Japan, and other parts of Asia at competitive pricing. We have a variety of the freshest produce and fruit. Our assortment also includes local products such as fresh noodles and tofu.
Our seafood department consists of live fish and shellfish such as carp, tilapia, lobster, crabs, squid and clams. Our fresh caught fish selection includes sea bass, butterfish, salmon, etc. We also have an assortment of frozen seafood.
In our meat department we offer packaged lean quality fresh meats that include pork, poultry, and beef products. We also offer cured meats such as preserved duck, sausage, and Chinese bacon.Our meat department staff is always available to you for grounding pork.
In addition to our fresh products and seafood we offer an extensive selection of sauces, dried and canned products including an assortment of noodles, vegetables, and fruits. We have a nice selection of frozen dumplings. As well as our wide ranging food products, we offer kitchenware, utensils, woks, rice cookers, steamers, and sushi tools.
You will be pleased to shop at our market for quality foods and comparative pricing. Validated parking is conveniently located next door at Bradford Auto Park.
We warmly welcome you to visit us,
Managers Wilson Wong & Warren Wong