C.A.COX Auto Body is establised in 1934. Jianhua Auto Repair took over the business in 1994. Over the years, C.A. Cox Auto Body has now been an advanced auto repair company and enjoys a high reputation among the customers.
C.A. Cox Auto Bosy is the first Chinese local auto repair company. Our commitment is to provide fast, honest, and reliable services to all customers. We have a skiiled auto repair technician with 38 years professional experience. We also have a skilled team, advanced computer checking system and other equipments.

We are contract member of Commerce and Safety Insurance companies. We also accept other insurance. Our service language includes Chinese Mandarin, Cantonese, Taiwanese, and English.

Services
* Collisions:

Frame Collibration, Painting
* Full Set of Services:
Braking System, Engine

Generator Maintenance and replacement
Wheel Alignment

Routine Maintenance, Heating & AC System

Electrical System, Suspension & Transmission System
Muffler Exhaust Pipe Maintenance and Replacement

Computer checking
* Towing Service, Rental Service
* Free Computer Checks on, Free Estimation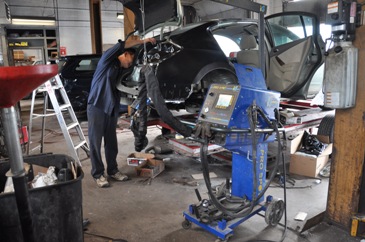 C A Cox Auto Body
Open Hours: Mon-Fri: 8am-6:30pm
Sat: 8am-5:30pm
Address: 60 Beale Street
Quincy, MA 02170
Phone: 617-479-7018, 617-479-0452,
617-479-0463
Fax: 617-847-4249
Website: www.cacoxautobody.com
C.A. Cox Auto Body is located among CVS, Xiren Liquor, and Enterprise Rental, facing Wollarston T Station.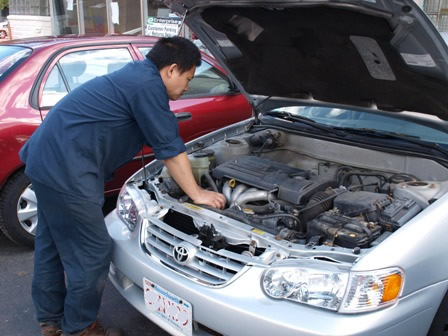 Customer Feedback

Cox Auto has all the typical must haves in a mechanic including: fast service, honesty, and reliable prices. BUT, the real reason I keep coming back is for their quirkiness. I love it, makes the "oh god my car died" pains disappear into laughter.
-They tend to answer the phone in Chinese. Or just "Hello?" You usually have to ask twice whether this is Cox Auto. It makes me feel like I'm in a secret society.
-When they leave you a message, it usually goes something like "This is mumblemumble from Coxauto (said as one word). Call me." No number. Cracks me up every time.
- When I ask what was wrong with my car, it usually goes like this : "Your mrmrmotor was bad. We fixed." Me: "My roter? Which one?" Them: "Uh, huh. Your mrmrmrotor" Me:"Oh, my motor?" Them:"Yes, motor. We fixed." Me: "Oh...Thanks?"
Thanks Cox Auto for fixing my car and making me feel (self imposed) like a Stupid American every time!
from www.yelp.com