About Attorney Gar Chiang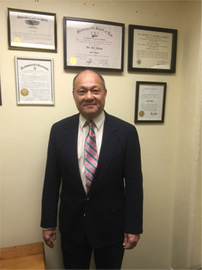 Attorney Gar Chiang is a general practitioner located in Boston's Chinatown. Having worked in Boston, New York, Hong Kong, Beijing, Attorney Chiang brings his many years of professional and business experience with high profile performing arts organizations and international companies in entertainment and hospitality industries.

Born and raised in Hong Kong, and educated in the United States, Attorney Chiang is able to combine his background, experiences and particularly his understanding of different cultures that help him better serve his clients' needs.

Below are a sample of clients that have sought Attorney Chiang's representation in:
Criminal defense;
Student suspension from educational institutions;
Probable cause Clerk Magistrate hearings;
Uncontested divorce in probate courts;
Restaurant Purchase and Sale Agreements between buyers and sellers;
Franchise Agreement;
Immigration hearings for Permanent Residency and Citizenship petitioners;
Formation of Corporations.

Attorney Chiang is fluent in Mandarin and Cantonese. He is also certified by Massachusetts Trial Courts as an interpreter in those two languages. Attorney Chiang is committed to do the best for his clients, charge reasonable fees, and provide quality service. One of his golden rules is, "always return a client's telephone call within 24 hours!"

Attorney Chiang received a Bachelor's degree from the University of Massachusetts, Master's Degree from Columbia University of New York and a degree of Juris Doctor from Massachusetts School of Law. Attorney Chiang is licensed to practice law in the Commonwealth of Massachusetts and United States Federal Court.

Attorney Gar Chiang
Master's Degree, Columbia University of New York

Juris Doctor Degree, Massachusetts School of Law
Address:
65 Harrison Avenue, Room 208, Boston, MA 02111 (In Boston Chinatown)
Phone:
617-422-0088
E-mail:
garchiang@yahoo.com
Office Hours:
Monday - Friday: 1 pm - 5 pm
Or call for appointment at 617-422-0088
News about Attrorney Chiang