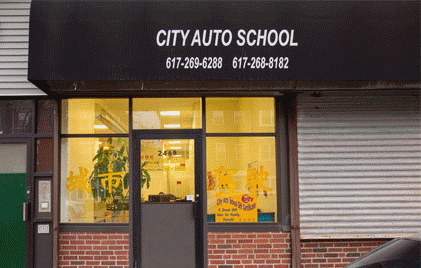 City Auto School, formerly known as Boston Driving school, was founded in 1999. With experienced driving instructors, the school is well-equipped to provide the quality services. The school has been relocated to South Boston and is in the vicinity of the Broadway T station. For your convenience, we pick up and drop off students at designated locations.
The mission of the school is to teach students how to drive safely, to obtain a driver's license effectively and to assure students of their driving skills. We have served more than ten thousand students who have received their driver's license since the establishment of our school. We sincerely welcome you to join our mission.
Driving Class & Price (RMV Road Test Fee not included)

1. One-to-one Training Program: Per Lesson $30 / 45 mins
2. Road Test Price
Regular Road Test: $80
Fast Road Test:$100
Weekend Road Test: $120
Please specify teacher, Test Location within one week.
3. Special Packages: 5 Classes + 1 Road Test $230
10 Classes + 1 Road Test $380
15 Classes + 1 Road Test $500
Attention: Before you schedule Road Test, please make sure that your date, time and location are determined.
There will be $10 reschedule fee every time.
*Road Test Cancellation needs 72 hour hours before. If less than 72 hours notice, RMV will charge $35. City auto school will charge $30.
See Price Details
Other Services

Chinese Driving Manual Free Picking-up International Driving Lisence

Written Test Translation Service

Please call for more infomation

City Auto School

Address: 242 W. Broadway,

South Boston, MA 02127
Phone: 617-269-6288, 617-268-8182
Email: cityautoschool@ymail.com
Website: www.cityautoschool246.com
Boston Chinatown Pickup Addresses:

5 Oak Street West Boston, MA 02111
8 Oak Street West Boston, MA 02111
75 Kneeland St. Boston, MA 02111
Quincy Pickup Addresses:

435 Hancock Street Quincy, MA
11 Brook Street Quincy, MA
1245 Hancock Street Quincy, MA
275 Hancock Street Quincy, MA
Good News: We will replace our vehicles with new 2012 Nissan low fuel consumption cars.