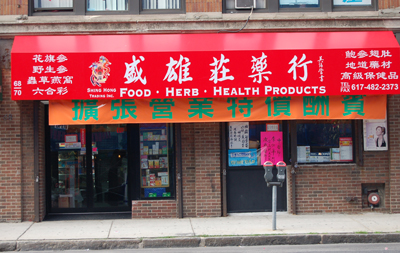 Shing Hong Herbal was founded in Boston Chinatown. We have a wide variety of ginseng and herbal medicine, including fungus, Cordyceps, bird's nest, Xueha, wild American ginseng, fish oil pills, and bone collagen from Japan. In particular, we provide valuable green side of the Australian frozen abalone, frozen sea cucumber, and abalone.

We also sell a variety of tea, including Dahongpao, Mao Feng, Biluochun, notoginseng flowers, the Eight Immortals Tea, Silver Needle Pekoe, Jasmine White Pearl, wild chrysanthemum, roses and others.
In order for Chinese medicine to go to the whole world, we have invited several famous Chinese Medicine practitioners into the store to treat the patients.

Welcome to Shing Hong Herbal!