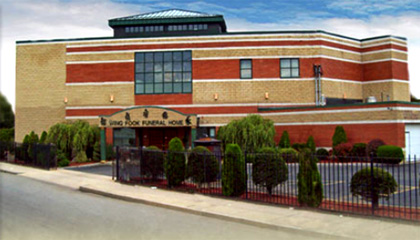 Wing Fook. Funeral Home is the first funeral business in the Greater Boston area and the New England States offering a home for Asian ceremonies and traditions. Chinese-American Wing Chan and his family opened Wing Fook Funeral Home in Boston's South End in 1995.
Wing Fook Funeral Home prides itself by offering a wide of variety services not only to the Asian-American community, but to people of all denomination and their different cultural backgrounds.
For more information, please call (617) 989-8833; send us an e-mail, or click here
Feedback
So I know it may seem a bit morbid to review a funeral home but I had a very close friend of 10 years who died last week and Wing Fook handled all the arrangements. I have never been in a more beautiful funeral home so I had to write a review on it. The staff was so warm and professional and did everything they could to make the guests comfortable at the wake (this is something one would expect but I honestly have dealt with the opposite from other places in the past). The decor was so tasteful and elegant; Ming dynasty furniture (probably reproductions but gorgeous nonetheless) in the reception with plush Chinese carpets, beautful painted murals on the sky-high ceilings right when you walk in, a subdued pale green colour palate, and even a grand wooden double-doored entrance. The place really had a regal feel to it and stood out amongst the usual 'cookie-cutter' type funeral homes I have seen in the past. Myself and several other guests commented that "in 60 years or so they will have a whole bunch of business from us" HAHA. It really was that impressive.
Wing Fook is a Chinese-owned business but they accomodate any nationality and/or belief system (my friend was Vietnamese and they still did a terrific job). Everything was planned perfectly and it made me so happy that my close friend got to have such a beautiful service. I know she was smiling down from where ever she is now.
By David T., Milford, MA
Warm, Detailed, Thoughtful, Dignified and Conscientious.
Wing Fook Funeral Home Willing the Dead Rest in Peace!